Interesting Trials and Cases
I have been a lawyer on a very diverse set of cases. In order to give you an idea of the scope of my experience, here are some.
Business Law Case for Garbage Collection
Lover's Triangle and Murder Trial
Child Molestation
Estate Litigation
For other example cases, please contact me.
Cases > Business Law Case for Garbage Collection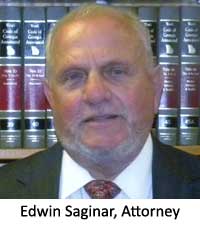 In one business law case, I represented two men who had a garbage route in Gwinnett County. Gwinnett County had attempted to use legislation to carve up the various districts to hand them out as franchises to the large garage collectors.

The new ordinances required expensive insurance, no charge for recycling, picking up discarded toilets, old washing machines, and so on. Such requirements made it very expensive to qualify for the required permit to pick up trash in Gwinnett County.

I sued the County Commission, thereby Gwinnett County, and won. The Superior Court judge in Gwinnett County threw out the law. He actually held the law to be unconstitutional under the state constitution. Since other counties were replicating these ordinances that created this case in the first place, other trash companies started contacting me to represent them as their lawyer for their legal matters.
Cases > Lover's Triangle and Murder Trial
I represented a man involved in a lover's triangle. His wife was engaged in an affair with a real physically powerful guy. They had this affair openly and they basically openly challenged the husband to do something about it if he didn't like it.

One night in the living room, the client found them, shot his wife and killed her. He then shot himself, but survived.

I met him in the hospital. The state of Georgia offered him life in prison. I tried the case. He was convicted of involuntary manslaughter, received five years, and walked out of prison in about 20 months.
Cases > Child Molestation/Child Sexual Abuse
The normal scenario is that if the outcry is made to a child's teacher, then the child's teacher or child's psychologist must report it to the authorities. The child is taken for a forensic interview. There is a whole protocol as to how it is conducted. It is a taped interview done by someone who is a supposedly trained expert.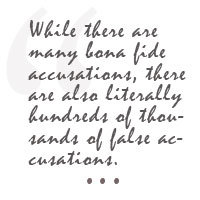 While there are many bona fide accusations, there are also literally hundreds of thousands of false accusations. The effect can be emotionally and financially disastrous to the person who has been accused. Often times the testimony of the child is obtained during an interview by using improper techniques. Often times such accusations are used by a party in a divorce case as a posturing tactic regarding custody. Utilization of proper expert witnesses is essential in bringing these facts to light.

One of the aspects of defending such an accusation is to have an expert analyze and critique the interview. There have been instances during an interview when the interviewer would use what they referred to the "neuter doll." It was a naked doll that did not have the sexual parts depicted. The typical question used to be "where did Freddy touch you? Point to where he touched you." It Later it got more sophisticated, but that was the way it was initially.

Child molestation cases cut across social and financial strata. A sexual crime against a child is an emotional and complex case to defend. I have the experience and knowledge to defend these cases.
Cases > Estate Disputes, Estate Litigation
Unfortunately, money can divide a family after the death of a loved one.

The typical way to set aside a will in most states is to prove that the deceased did not have testamentary capacity. In other words, the mental faculties to know what he or she was doing and the extent of what they owned. In an era when Alzheimer's disease and other dementia have started claiming a greater percentage of our population, these situations are more common than you might imagine.

At times I have met individuals who have said that he wished that he had met me years earlier because he believed that I could have saved him a good amount of money and misery and that I could have brought the estate dispute to a conclusion much earlier than those who represented him.

I am a firm believer in the use of mediation to resolve such disputes. If the case cannot be settled then an attorney must aggressively prepare and conduct a trial.

Please contact me today to schedule an appointment for a free half hour initial consultation. Call 678-366-0730 and get the legal service you need.
---
Areas served: Alpharetta, Buckhead, Cumming, Decatur, Douglasville, Duluth, Dunwoody, John's Creek, Lawrenceville, Marietta, Milton, Roswell, Sandy Springs, Smyrna, Cherokee County, Cobb County, Dekalb County, Forsyth County, Fulton County and Gwinnett County.
---


Alpharetta Attorney Edwin Saginar practices the following Areas of Law: Civil Litigation, Criminal Defense (Georgia and Federal Courts), Defense against Sex Offenses, Custody, Divorce, Domestic Violence, Child Support Modification/Child Support Collection, Inadequate Security/Crime Victim, Sex Offenses.
---


File under: Atlanta lawyers, Alpharetta lawyers, attorneys, domestic law, business law, criminal defense.