Alternate Dispute Resolution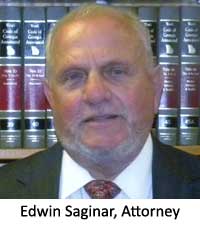 The term Alternate Dispute Resolution refers to any method of resolving disputes other than litigation.
ARBITRATION
The two typical forms of ADR are mediation and arbitration. Arbitration involves an actual trial held before qualified individuals called "arbitrators." Typically there is either one or there are three arbitrators. The advantage to the process is that the parties can set a place, date and time for the trial. The disadvantage is that it is costly. Both parties must accept the arbitrator's decision. The final result is binding, meaning that there is no further negotiation that follows.
MEDIATION
I like to call this method "shuttle diplomacy." A qualified neutral, impartial person attempts to facilitate a settlement between the parties with the attorneys present helping his or her respective client formulate offers and counteroffers which hopefully lead to a settlement. The mediator has no authority to make a decision or impose a settlement. In fact the mediator can not be subpoenaed if there is no settlement and the case goes to a trial.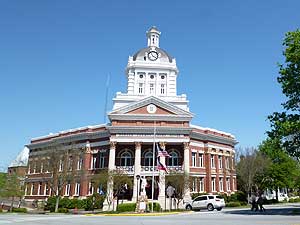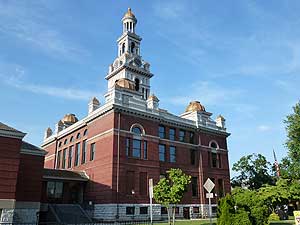 Frequently, mediation does not result in a settlement but narrows the previously unresolved issues between the parties. In Georgia, all parties in a divorce must submit to mediation before they can appear before a judge.

I am a firm advocate of the mediation process, particularly once the parties have exchanged documents and exhibits as part of the pre trial discovery process. Mediation can expedite the process and save attorney's fees and costs.
MY PHILOSOPHY AS AN ATTORNEY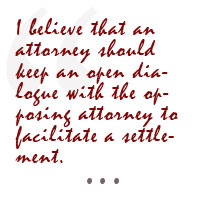 I believe that an attorney should keep an open dialogue with the opposing attorney to facilitate the possibility of a settlement. In my career I have witnessed opposing lawyers allow their egos to interfere with reaching a resolution of the conflict. I have witnessed what I call "grandstanding" by an opposing attorney which, I suppose, is done to make a client believe that the attorney is tough and can't be "messed with." At the end of the day good results are what the client desires; grandstanding is counter-productive and costly, so I don't do it.
Please contact me today to schedule an appointment for a free half hour initial consultation. Call 678-366-0730 and get the legal service you need.
---
Areas served: Alpharetta, Buckhead, Cumming, Decatur, Douglasville, Duluth, Dunwoody, John's Creek, Lawrenceville, Marietta, Milton, Roswell, Sandy Springs, Smyrna, Cherokee County, Cobb County, Dekalb County, Forsyth County, Fulton County and Gwinnett County.
---


Alpharetta Attorney Edwin Saginar practices the following Areas of Law: Civil Litigation, Criminal Defense (Georgia and Federal Courts), Defense against Sex Offenses, Custody, Divorce, Domestic Violence, Child Support Modification/Child Support Collection, Inadequate Security/Crime Victim, Sex Offenses.
---


File under: Atlanta lawyers, Alpharetta lawyers, attorneys, domestic law, business law, criminal defense.